Sundar Pichai Net Worth 2019, Biography, Early Life, Education, Career and Achievement
Sundar Pichai Net Worth – Sundar Pichai is the present Chief Executive Officer of Google Inc, a role he has occupied since the 10th of August 2015. He is an American businessman of Indian descent. Prior to becoming Google's CEO, he was the Product Chief of Google.
It is easy to discern Sundar Pichai's exceptionality when you consider the fact that Google has had some of the best businessmen in the world as its CEO, from Eric Shmidt to Larry Page (who founded the company with Sergey Brin).
He is also a devoted fan of the FC Barcelona, commonly known as Barça, and is said to never miss watching a game. He is not just a fan of soccer but of cricket as well.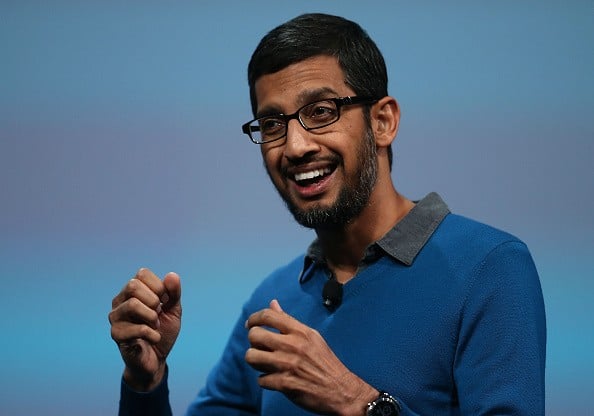 Early Life, Family and Education:
Sundar Pichai (birth name: Pichai Sundararajan) was born on the 12th of July 1972 in Tamil Nadu, India. He was born in a middle-class family and grew up in a two bedroom apartment in Ashok Nagar with his parents and brother. He attended a Central Board of Secondary Education school in Ashok Nagar – Jawahar Vidyalaya High School. He also attended the Vana Vani Matriculation Higher Secondary School which is located on the Indian Institute of Technology Madras campus at Chennai.
Sundar later attended the Indian Institute of Technology Kharagpur where he got his degree in Metallurgical Engineering. He later got his master's degree in Material Sciences and Engineering from Stanford University and an MBA from Wharton School of the University of Pennsylvania. While at the Stanford University, he was named a Siebel Scholar and at Wharton Business School, he was named a Palmer Scholar. This can be viewed as evidence that Sundar Pichai was destined for great things from earlier on.
Regunatha Pichai, Sundar's father, was an Electrical Engineer for General Electric Company while his mother, Lakshmi, was a stenographer. His father also owned a manufacturing plant that specialized in producing electrical components. His parents worked hard to sustain he and his brother growing up and their efforts were obviously not in vain.
Career:
Sundar Pichai is currently married to Anjali Pichai and they have two children together: a daughter, Kavya Pichai and a son, Kiran Pichai. Sundar and Anjali met when they both attended the Indian Institute of Technology Kharagpur and were classmates. They were initially just friends but after several months of friendship, they began dating and after a few months together, Sundar proposed to Anjali during their final years in school.
Anjali was born in Kota, Rajasthan, and she studied chemical engineering at Indian Institute of Technology Kharagpur – graduating in 1993. In 1999, she began working with Accenture, a global management consulting firm that provides strategy, digital and technological services. She worked at Accenture for three years as a business analyst.
Anjali is considered a huge factor in Sundar's success. Her encouragement and his hard work have proven to be a great mix – she advised him to keep working at Google even though he had gotten CEO offers from Twitter, Yahoo and Microsoft. His choice to stay with Google eventually paid off.
Achievement:
Sundar Pichai lives in the infamous and reputable Los Altos Hills in California. He stays in a luxury house he bought in 2013. Considering he was already earning an impressive salary before becoming C.E.O, he could have easily afforded any house he wanted.
Los Altos Hills is known for being home to many C.E.Os, techs geniuses, entrepreneurs, businessmen, actors and retired sports icons. Some of the notable people that live in Los Altos Hills include Barry Bonds, Adrienne Barbeau, Gordon Moore, Connie Young Yu, David Packard, Sergey Brin, Max Thieriot, Yuri Milner, George M. Marcus, Steve Kirsch, John T. Chambers and Jerry Yang.
Apart from Los Altos Hills, Sundar Pichai owns multiple properties in his home country of India.