Steve Harvey Net Worth 2019, Biography, Early Life, Education, Career and Achievement
Steve Harvey Net Worth – Steve Harvey is a comedian and a media personality, famous for The Steve Harvey Morning Show, the Steve Harvey talk show, Family Freud etcetera. Besides acting and hosting, he is an author as well.
Harvey began his career as a stand-up comedy at the Hilarities Comedy Club in Cleveland Ohio in 1985. He later performed his comedy in various comedy clubs.
Multiple award-winning television personality Steve Harvey has won five Emmy Award, two-time Marconi Award and a 14-time NAACP Image Award in numerous categories.
Early Life, Family and Education:
The artistic media personality was born on January 17, 1957, in West Virginia. His father, Jesse Harvey was a coal miner and his mother, Eloise Vera was a housewife. He holds an American nationality and belongs to Afro-American ethnicity.
Harvey's family moved to Ohio on East 112th Street, which was renamed as Steve Harvey Way in 2015. He joined Glenville High School and attended Kent State University and West Virginia University in order to complete his education.
Steve Harvey's Controversies:
Steve Harvey's second ex-wife, Mary Shackelford blasted him for owing her millions of dollars and another major deal which involved Marjorie Elaines respectively. Shackelford even insisted that during the time of their marriage, Steve had affair with his nanny, Marjorie.
Shackelford was featured in a Youtube video in which she opened up about how she feels she has been improperly treated by Harvey. Shackelford, who was married to Harvey for nine years, claimed that Steve Harvey owes her a whopping $50 million. Mary Shackelford was seeking $60 million big paydays and said she wanted him held liable for emotional damages she faced since the couple's divorce in 2005.
In the divorce, Mary was given three of their homes and $40, 000 per month until 2009 including a one-off payment of $1.5 million. Mary wanted him charged with a constitutional rights violation, falsifying documents, contempt of court, embezzlement, extortion, and collusion. Mary was suicidal and she had to "self-medicate" in order to handle the aftermath of her split from Steve.
Personal Life:
Steve Harvey has been married for three times yet. He married his girlfriend Marcia in 1980. They together have twin daughters, Brandi and Karli. Steve and Marcia got divorced in 1994. Steve Harvey got married for the second time in1996. He has a son, Wynton Harvey, with his second wife Mary Shackelford.
The couple divorced in November 2005. After the divorce, he made a statement saying he chose the wrong partner. Steve is currently married to Marjorie Elaine Harvey, his third wife. They are married since 2007 and still together.
They split after dating for some time, however, they again re-collided in 2005, shortly after Harvey ended his second marriage ended with Mary Shackelford.
his height and kids
Career: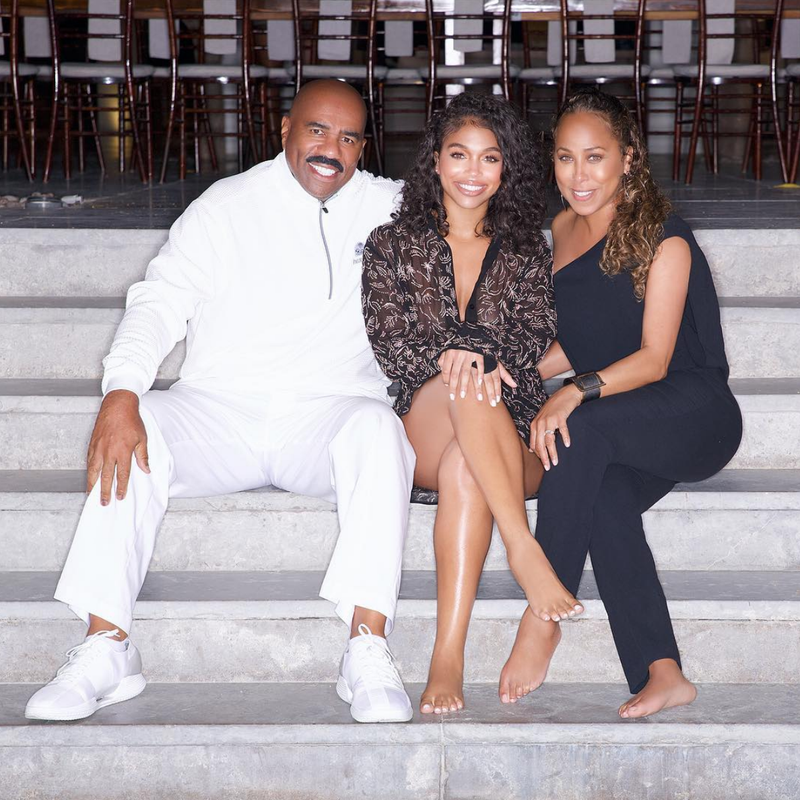 Steve started his acting career in the 1980s. He further rose to fame in 1996, with the release of his own sitcom, The Steve Harvey Show, aired on The WB network. Featuring himself as the lead protagonist, the tv series successfully received millions of viewers throughout its run.
Being one of the most popular shows of its time, the sitcom received immense success along with nine NAACP Image awards.
Five years later, Steve decided to chase other endeavors-the show later came to an end in 2002. Steve Harvey along with Cedric the Entertainer, went on The Kings of Comedy tour in the late 1990s. It was one of the highest-grossing comedy tours of the United States, it banked a total of $19 million. On 18th August 2000, Steve featured with Cedric in the next stand-up comedy film, The Original Kings of Comedy.
In the year 2009, Harvey published a book under the title Act Like a Lady, Think Like a Man. He signed a contract with IMG to produce a new syndicated talk show in Los Angeles with NBCUniversal and their new series Steve was  premiered in September 2017.
Achievement:
Five-time Daytime Emmy Award winner, Steve Harvey, has an estimated net worth of $160 million as per Celebrity net worth. According to the same source, Harvey's annual salary is around $40 million. The comedian extends his net worth through earnings from his talk shows, TV shows, public appearances, movies, endorsements and tours among other endeavors.
Harvey was renting a 6, 400 square ft. the penthouse suite at Trump International Hotel and Tower based in Chicago in 2012. He spent around $22, 000 per month in rent for the penthouse. From his various endeavors, he earned around $45 million in between 2017 and 2018.