Maddie Ziegler Net Worth 2019, Biography, Early Life, Education, Career and Achievement
Maddie Ziegler Net Worth – Maddie Ziegler is a teenage sensation, known for being the outstanding performer on the Lifetime reality series, Dance Moms. She is an American dancer, model, and actress and came into prominence through starring in various videos by Sia that includes Chandelier and Elastic Heart which amassed more than 3.8 billion views on YouTube.

Early Life, Family and Education:
Maddie Ziegler is an American teen dancer, actress, author and model. She was born on the 30th September 2002 in Pittsburgh, Pennsylvania, United States of America to parents Kurt Ziegler and Melissa Gisoni. Growing up, her parents owned a mortgage company.
Remarkably, she started dancing at the age of 2; Madie joined the Abby Lee Dance Company as a member. The Academy trained her in tap, ballet, lyrical, contemporary, jazz and aerial dance.
Ziegler attended Sloan Elementary School until 2013 when she left to be homeschooled. Before she was pulled out, she got the opportunity to showcase her talent for Paula Abdul's reality television program Live to Dance in 2010. In 2011, Maddie was first thrust into National consciousness with her appearance on Lifetime's reality show Dance Moms which aired from 2011 – 2016.
Personal Life:
The dance prodigy has been in a relationship with upcoming social media star Jack Kelly. The pair began dating in 2017 and are popular for having most of their pictures go viral on social media. Jack has an impressive 1.6million followers on Instagram. The couple recently celebrated their one year anniversary in January 2018.
Maddie's mom is Melissa Gisoni. She has been divorced from Maddie's Dad Kurt Ziegler since 2011. She got remarried in 2013 to Greg Gisoni, a vice-president at Westinghouse Electric Company. Maddie has two sisters Michele and Mackenzie who is also a dancer and singer. She made appearances with Maddie on the reality dance series Dance Moms. Maddie has two older half-brothers, Ryan and Tyler, who are from her father Kurt's first marriage.
Career: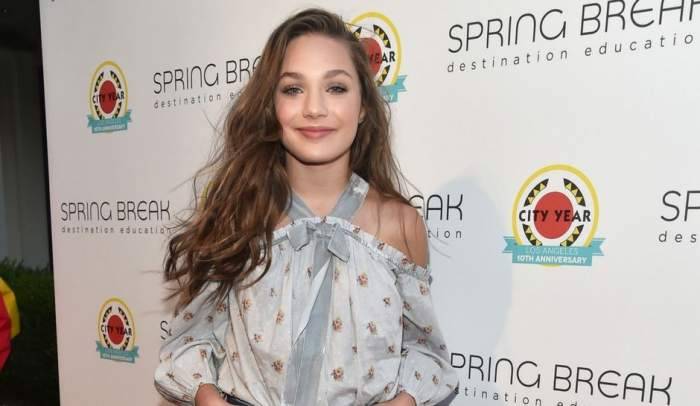 Musicians such as Alexx Calise, Sia and Todrick Hall have had Maddie appear in their music videos. She appeared in the 2014 video for Chandelier by Sia. The video was nominated at the 2014 MTV Video Music Awards for Video of the Year and Best Choreography. It was also nominated for the Grammy Award for Best Music Video in 2015. It has received more than 1.7 billion views on YouTube, and at one point it was the 13th most viewed YouTube video of all time.
Maddie continued to appear videos and in 2015, she appeared in Elastic Heart, another Sia video that garnered more than 800 million YouTube views. She also performed to Chandelier alongside Sia and Kristen Wiig at the 2015 Grammy Awards. The Chandelier and Elastic Heart videos were both selected as part of Pop Sugar's 2016 list of "25 of the Best Dance Videos of the Last Decade"
In 2012, Maddie Ziegler made her acting debut starring the role of Young Deb in an American legal comedy-drama/fantasy television series Drop Dead Diva. In 2015, she portrayed the role of Shelby Hayden in an American teen sitcom Austin & Ally.
She has also ventured into modelling for brands such as Clean & Clear, Capezio, including their Betsey Johnson line, Target and Ralph Lauren. She has also been featured on numerous magazine covers and in fashion editorials.
For a girl her age, her entrepreneurial instincts are quite impressive; she launched a casual fashion line, for girls and juniors, in October 2016. The line includes tops, jackets and other items. Maddie's Instagram following stands at 10.9 million.
As a teenager, she is already a New York Times Best-selling author, her personal memoir, The Maddie Diaries released in 2017, has sold millions. She is currently writing a trilogy of novels for middle-grade readers. These set of novels, tell a story similar to hers, of Harper, a 12-year-old dancer whose family relocates to a new state. He must figure out a way to get through pre-teen challenges, making new friends, while earning a place on a competitive dance team. The first novel, entitled The Audition, was released in October 2017. The two other volumes are expected to follow in 2018 and 2019.
Achievement:
Maddie is still very young and as such her height is bound to increase. She currently stands at 1.6 meters.
From her various endeavors; Dancing, Acting, modelling and writing, Maddie's current Net Worth is put at an impressive $2.5 million